UBZR1 Analogue Synthesizer Mechanics
Case
The UBZR1 case is built using standard off-the-shelf 19" 3 height units Eurorack aluminium mechanics.
Front View

The photo shows that no potentiometers of switches/buttons are present. The front plates of the three VCO modules show holes to access trimming potentiometers for gauging pitch and calibration. You can see the 1/4" audio output jack. The Keyboard-In module shows a special round 12-pin connector to attach the custom built Analog Keyboard. The Digital-In module uses a standard MIDI female 5-pin DIN jack.
Each module has one 3 mm LED to allow to monitor the module is operating.
Side View
The side view shows I added a custom built back case to hold the power supply and protect the rear module cabling.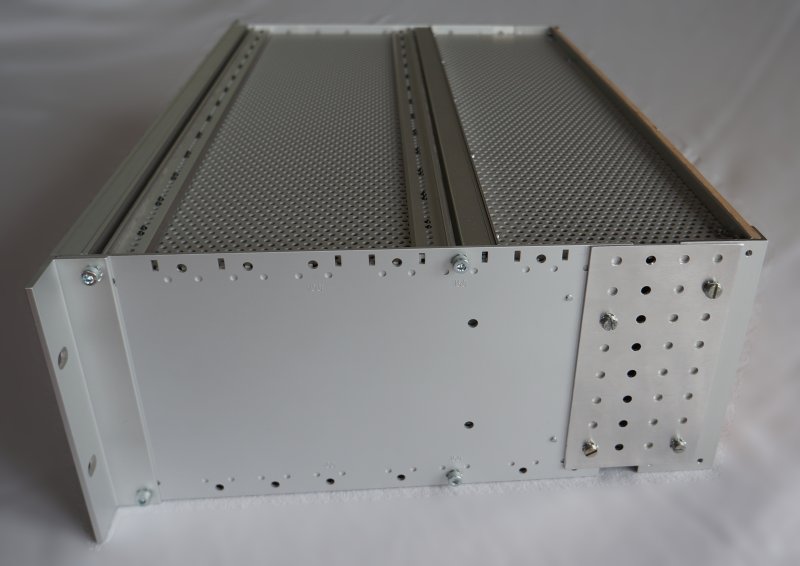 Slide-in Modules
The slide in modules are all 6 units of 1/5" wide (circa 3 cm) and contain one printed circuit board each with dimensions 100 mm x 160 mm.
Front plates are 2.5 mm aluminium. For the artwork, I used adhesive transparent film (Avery 2500) printed with an inkjet printer.
Cabling
The slide-in modules use DIN 41617 31-pin connectors. Power rails are connected across all modules in a bus like manner. Audio signal lines are done point to point using shielded cables.
The Vc control lines are brought out on male box-type shrouded headers with pins of 1/10" spacing pressed onto 20-pin ribbon cable. The Vs control lines are ended on a PCB with soldered pins of 1/10" spacing.
2-pin 1/10" female headers on stranded wires are used to bring each control line to the appropriate module.